This post may contain affiliate links which means I earn an affiliate commission for qualifying purchases at no cost to you. Thanks for the support!
Want to make stickers of your wood burning art? You're in the right place!
As a pyrography artist, my wood burning work is popular in my online shop. I have been wanting to create more products with my pyrography work, and stickers were a great start to expanding my product line.
It's really easy to make wood burning stickers, and this process is basically the same as turning a photo into a sticker. I've outlined the steps below for my process of making wood burning art stickers.
Related:
How To Make More Money As A Pyrography Artist
How To Remove Pencil Lines From Wood Burning Art
How To Make Wood Burning Art Stickers
You'll need your finished art piece, a camera, a lightbox or bright area for photos, and some editing program.
1. Use a lightbox or natural light
Lighting is key when taking quality photos to create stickers. Though you can edit your photo afterward, having good light to start with is important.
You'll want your wood burning to either be on a bright background like a piece of large paper or in a lightbox.
Depending on the time of year, I sometimes take my work outside and place it on a large piece of white cardboard. I love natural light. If it's raining or during the winter, I use the lightbox I got from Amazon. Both methods work and it depends on your preference really!
---
---
2. Take photos
I use my Canon 6D Mark II to take photos, but you can also take quality photos with your phone. Make sure you are using the highest quality setting and take several shots of your wood burning art.
I take photos directly from above so the image is clear and not skewed in any way.
3. Edit your photos
I use Photoshop to edit all of my photos because as a graphic designer, it's an industry standard and that is just what I'm used to. There are many free alternatives out there, so if you don't have Photoshop, use what you are comfortable with.
In the editing phase, I usually brighten the photo, add in some more contrast, sharpen it, adjust the saturation, and make other adjustments as needed.
If there are any blemishes, I also edit those out with the cloning tool in Photoshop. This step is basically making the photo as pretty as possible so you can able to create an attractive sticker.
4. Cut out the background
Once I am happy with how the photo looks, I cut out the background from the photo so your wood burning is the only part of the photo.
This is why I shoot the pictures on a white background. It makes removing the background so much easier. You can either do this manually with a cutting tool or select it out with an object selection tool.
Once the background is removed, you'll want to make the photo into a PNG.
5. Order/make your stickers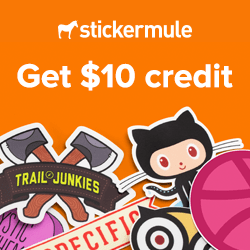 When the editing process is complete and my wood burning photo looks great, I then order stickers to add to my shop.
I order all of my vinyl stickers from Sticker Mule. After researching the best sticker suppliers, they really stood out. The quality is amazing, they have free shipping, and they rock. You can also order samples of your stickers for a great price as well!
---
---
If you are looking for a place to order your stickers, I highly recommend Sticker Mule.
You also of course can make your own stickers, but I personally have no interest and time for it so I order them because it's easier for me right now in my business.
You now have created stickers of your wood burning art!
There really are only a handful of wood burning stickers available online. If you make awesome wood burning artwork, why not try stickers? It's an affordable way for your customers to have a piece of your work without buying the original. Plus, there is only one original!
Let me know if you have any questions in the comments below and I will gladly help the best I can.
-Amanda
This post was all about creating stickers from original pyrography art.