This post may contain affiliate links which means I earn an affiliate commission for qualifying purchases at no cost to you. Thanks for the support!
Recently I added stickers to my small business. I figured I could write a blog about how to sell stickers as an artist and my experiences so far. Then I realized that every artist should sell stickers!
Why? Stickers are easy to create, small enough to store, and are a low-cost way to add new products to your art business. Plus, stickers are super popular and can be used for so many different things!
If you don't ship or stock products and prefer passive income, there are so many websites out there that will do all that for you. All you have to do is upload your art! Redbubble is one of those sites, and I've had a great experience on the platform so far!
In this post, I will cover several different topics around sticker making and selling.
Here at the Green Artist blog, I love to share behind-the-scenes of my art business. I am an artist, entrepreneur, and blogger who enjoys teaching and helping others. If I can help or inspire someone out there, I am happy!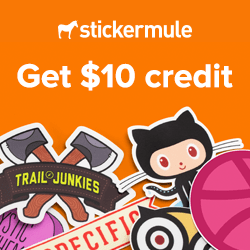 ---
How To Sell Stickers As An Artist
---
Turning Art Into Stickers
There are a few different ways to turn your art into stickers. First, if you have created digital art on your computer or iPad, it's basically ready for print and you just need to export the file! Just make sure your file is formatted for print and in CMYK (the color mode for printing).
If you have created a physical painting or want to make a sticker of an original wood burning, you can either take a high-quality photo or a scan. I do both of these methods.
For my wood burning art that I want to make into stickers, I take high-quality photos with my Canon camera in my lightbox. If I want to make a small watercolor painting into a sticker, I do a scan of it. It really depends on what you're working with!
After my images are on the computer, I do some adjustments and edits in Photoshop to make them perfect for print.
Where & How To Print Vinyl Stickers
There are many sticker printing websites out there, but I'm going to share where I get my stickers printed. I currently print my stickers with Sticker Mule. They do an excellent job and it's super easy to upload your files to be printed. Many artists and designers print their stickers at home, but I don't have a printer/machine to do that right now, so I decided to outsource my sticker printing.
Sticker Mule is probably the industry standard for sticker printing, as they are really well known. Personally, I am busy enough with my day-to-day tasks that I didn't want to make my vinyl stickers at home, though everyone is different! Do some research and price comparison and see what works for you and your business.
Another great thing about Sticker Mule is you can order samples without ordering high quantities at first. I do this with any new designs as you want to make sure they print well before you order hundreds of them. Sticker Mule has fast and free shipping too! A total win in my book.
---
---
Selling Stickers On Redbubble
If you don't want to worry about printing your own stickers to sell on sites like Etsy, you can sell stickers on a print-on-demand site like Redbubble. This is such an easy thing to do as all you have to do is upload your art, and Redbubble does the rest! You don't make as much money this way, but if you don't want to worry about shipping stickers and customer service, Redbubble is the best choice for you.
Redbubble is a great option for traveling artists and artists on a budget who are just starting out. This is a great way to get your art and designs out in the world with no cost upfront.
I sell stickers on my own website, Etsy, AND I also upload my designs to Redbubble. This is my full-time job, so I like to be on multiple platforms so my work is more likely to be seen and purchased! If you sell stickers on Etsy, I'd highly recommended uploading your sticker files to Redbubble as well. I've gotten several sales within the first few weeks of being on Redbubble. I love it!
How To Sell Stickers Online
You can sell stickers on your own website, Etsy, or whatever social platform or website you prefer. Stickers are very popular on Etsy. If you have a following on social media and your own website, then simply sharing your new stickers with your audience is a great way to get sales.
Where you sell your stickers online will depend on your online presence to start with and how comfortable you are with selling online. It truly is easy to sell on Etsy, but you will have to pay 20 cents per listing!
---
---
Why Are Stickers Popular?
Stickers aren't just for kids! You can place stickers almost anywhere, and that's a huge part of their popularity. Vinyl stickers can be placed on water bottles, laptops, iPads, phones, notebooks, journals, cars, mirrors, and so much more!
Stickers are a great way for people to express themselves as well and show off their interests.
How Much Should You Sell Stickers For?
This will depend on many factors, such as if you're making the stickers yourself vs. buying them, how much they cost, and how large they are. After doing some research, the price range for your average 2-3″ sticker is roughly $3-$5. This sometimes includes the shipping price and sometimes does not.
Adding Stickers To Your Art Business
Whether adding stickers to your business is right for you or not, I hope you enjoyed this post on how to sell stickers as an artist. Selling stickers has been on my to-do list for years, and I finally pulled the plug on it for the new year.
Want to see my sticker designs? I would so appreciate it if you checked out my shop! Click here to see my vinyl stickers for sale.
– Amanda 💚